We're here to help you achieve what
others may believe impossible.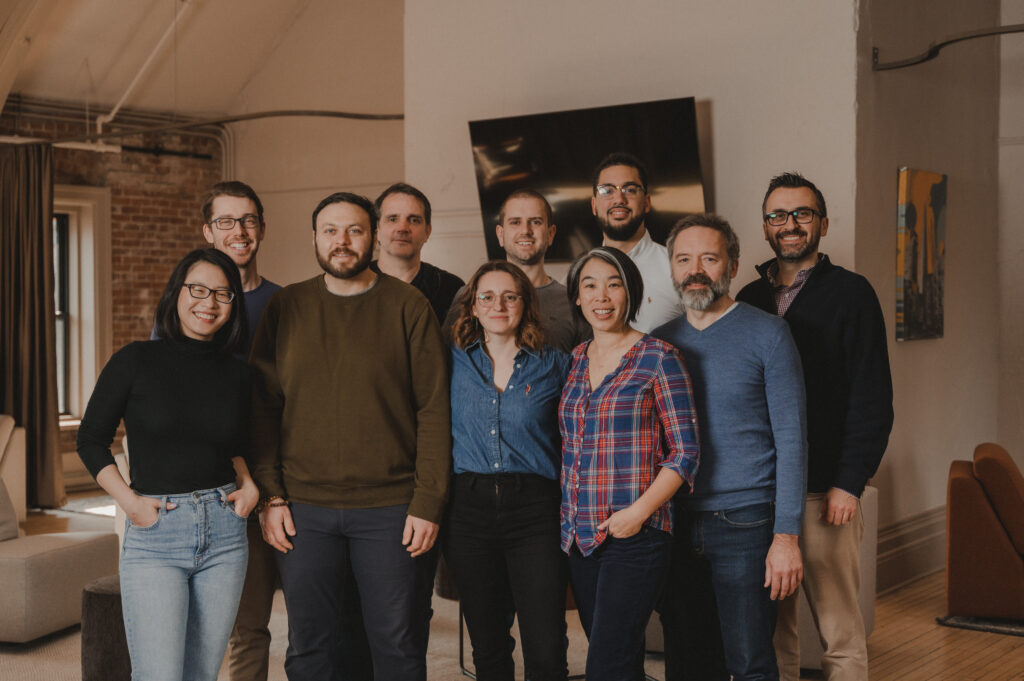 We've walked in your shoes — or similar ones. We've been through the ups and downs of the entrepreneurial journey ourselves.
We have learned not just from our own experiences but also those of the hundreds of founders we've supported over the past decade. We are committed to helping early stage tech startups transform industries, society and humanity for the better.
Our Investment Team
John Stokes
Managing Partner
John Stokes
Managing Partner
"I want to help founders convince others about the world of the future, and then help them make that world a reality."
John is an investor who daily resists the urge to get back to being an entrepreneur — but rather chooses to live vicariously through the founders in whom he invests. After having played leading roles in two successful startups in Asia Pacific, but being underwhelmed with the venture capital model, John transitioned from entrepreneur to investor, determined to give others a more rewarding experience. After a number of years angel investing, he cofounded Real Ventures in 2007, where he works with passionate entrepreneurs looking to use technology to pre-empt the status quo. He knows that the path to success is uphill and it doesn't have many signposts, but that an enquiring mind, an ability to inspire, a strong compass and dogged determination can enable entrepreneurs to find success in places others didn't know existed.
Sam Haffar
Partner
"I get as much inspiration from entrepreneurs as I hope they do from me."
After nearly a decade in Silicon Valley, Sam joined the Real Ventures team with a great breadth of experience as a founder, strategizer and marketer. Having leaped into the startup world barely before he graduated from university, he joined the founding team at Chegg, a leading education technology company that went public in 2013. After Chegg, Sam led growth, marketing and sales teams at some of the top early-stage tech companies in the Valley. Combined, his startups have raised well over $200M from the world's best VCs. At Real, Sam works with founders on all aspects of their business from organizational development and product strategy to series A fundraising, growth and scale initiatives. After experiencing firsthand the extreme highs and lows of startup life, Sam has found that working with early-stage founders is his natural passion.
Hamzah Nassif
Partner
"I work with the next generation of mission-driven founders who want to build the world's next leading and innovative tech brands from Canada."
An engineer first and investor second, Hamzah brings over 12 years of experience in technology and business. He first caught the innovation bug while working on Qualcomm's first-generation multiprocessor chipsets in Boulder, Colorado in the mid-to-late-2000s. After 11 years of study and work in the US, Hamzah moved halfway across the world to work with startups in the frontier and emerging markets of the Middle East. He co-founded a venture builder that developed and invested in several online marketplace startups, helping them scale operations to half a dozen countries, millions of users, and more than USD 50 million in annual revenues. He helped raise USD 90 million in venture capital funding for startups, managed a USD 44 million portfolio of early-stage venture capital investments, and executed over two dozen transactions with an aggregate deal volume of USD 222 million. Hamzah moved to Toronto in 2018 and has been active in its product and startup communities ever since. At Real, Hamzah is responsible for working with both existing and new Real companies, and supporting Real's continuing efforts to bolster Canada's rapidly growing tech hubs.
Katy Yam
Partner & FounderFuel General Manager
Katy Yam
Partner & FounderFuel General Manager
"My job in life is to elevate others."
Katy is a natural connector of people and ideas in service of helping good people succeed. As Partner and General Manager of FounderFuel, her ambition is to create an environment that helps founders level up quickly by filling knowledge and experience gaps with pairings from Real's rich mentor ecosystem. She believes deep personal accountability and a #givefirst mindset will enrich every startup and accelerate their traction at FounderFuel and beyond. Prior to joining Real, Katy spent 3 years at Element AI, scaling up from pre-Series A to its current global footprint as Canada's largest AI company. She is a multilingual executive with a 20-year history of managing high-performing product, business intelligence and marketing teams across various public and private industries including telco, CPG, gambling and AI. In her spare time, Katy leads TEDxMontréal, a non-profit dedicated to elevating Montreal-born ideas onto the global TED stage. A guest lecturer, board member, public speaker and triathlete, she adores reading fiction of all sorts and riding/running on Zwift to unwind.
JS Cournoyer
Board Partner
JS Cournoyer
Board Partner
"I believe that society's success will come from strong ecosystems and great new technology."
JS is a hands-on investor and entrepreneur whose mission is to help creative and curious people to build great companies that have the potential to change the world. He primarily works with entrepreneurs who are using AI, blockchain technologies, AR/VR and synthetic biology to improve happiness, human creativity, and communication — and transform or disrupt the pillars of our society (health, education, food, energy, government, finance, work). His experience in all aspects of creating, building and growing tech companies has given him the confidence to follow his gut, and help passionate entrepreneurs realize their vision and find success in life and business. When he's not working on reinventing the world, he'll likely be found spending time with his five kids.
Alan MacIntosh
Board Partner
Alan MacIntosh
Board Partner
"You've only got so many days on the planet. While you're here, you owe it to yourself to have the biggest possible impact."
Alan has been building, operating and investing in businesses at the intersection of wireless and the internet since the 1990s. After cofounding a number of notable venture funds including GSM Capital and Acta Wireless, he joined with John and JS to cofound Real Ventures in 2007. A dedicated mentor, Alan sees himself as a demanding yet empathetic coach: helping on important issues, highlighting strategic opportunities, and looking for possibilities for his portfolio companies to exit. He works primarily with startups using emerging software technologies (mobile, digital media, deep learning, preventative healthcare), and is also interested in creating new markets with connected devices. A native of Scotland, Alan is a keen cyclist and lifelong skier, and is also committed to improving the quality of life in the community, through his work as President of the OSMO Foundation and as a board director of the McCord Museum, the Quartier de l'Innovation (QI) and the Mobile Giving Foundation Canada.
Mark McDowell
Board Partner
Mark McDowell
Board Partner
"I like to get to know people — get a sense of their capabilities and limitations — and then push them beyond that to help them achieve everything they can."
Mark is an engineer and entrepreneur who loves the creative, chaotic excitement of launching a new company. Growing up in the 1970s, he thought everything had already been invented — he even wrote to the patent office to ask what still needed to be created. With the advent of the Apple II, he jumped into his life as a creator, and decided to major in computer science with a focus on AI. After launching his career in the wireless industry, including roles in the founding teams at four startups, Mark co-founded Acta Wireless in 2004 with Alan MacIntosh, and was instrumental in Acta's founding role in Montreal Startup and Real Ventures. Mark's main interests today are blockchain technology, AI/ML, quantum computing, and the (imminent) return of analog. When he's not encouraging founders to push harder, he's helping them expand their teams so their companies can get to the next level.
Phil G. Joseph
Associate
"I'm passionate about leveraging technology to create a better future for all."
After spending years intrigued by the technology he was using to train and rehabilitate athletes, Phil decided to transition from keeping athletes on the field, to keeping tech entrepreneurs in the game. In 2020, he partnered with Real Ventures to create Rep Matters, an interview series that highlights Black entrepreneurs and investors, and joined Real Ventures as an associate in 2021. In this role, he supports all of the firm's investment activities, and is always looking to connect with amazing founders. Outside of work, Phil spends his time coaching and mentoring youth, playing basketball, or finding his next outdoor adventure. 
Our Operations Team
Richard Fefergrad
Director of Finance
Richard Fefergrad
Director of Finance
"All growth starts at the end of your comfort zone."
Ricky joined the Real finance team in early 2019 after spending nearly three years working as a general ledger accountant at Luxury Retreats and through the startup's acquisition by Airbnb. This experience opened his eyes to the new opportunities created by technology companies and drove him to learn more about the value creation they can bring to the market. Born and raised in Montreal, Ricky studied accounting at Concordia University and earned his CPA designation in 2017. He is excited to work at Real Ventures both because his role in finance is such an integral part of the firm, but also because working at Real Ventures and Notman House gives him front row seats to watch the high-calibre companies emerging from the burgeoning Montreal tech ecosystem. Ricky also loves watching and playing sports — hockey, football and baseball in particular. When he's not working or playing, you'll likely find him researching the next place he wants to travel to or experimenting with recipes.
Sean Clayton
Finance Manager
Sean Clayton
Finance Manager
"I've always been interested by numbers. Now, I'm interested in the stories they can tell."
From the onset of his career, Sean has always had a passion for the quantitative aspect of finance and the stories behind entrepreneurial endeavours. In his role as Finance Manager, Sean manages reporting and valuations for Real Ventures' funds. Prior to joining the firm, Sean provided his financial expertise to a number of businesses across multiple industries. Notably, he worked as a Financial Analyst for a major Canadian airline, he was an accountant at KPMG's audit practice and he provided freelance financial consulting services to multiple Montreal-based startups. Outside of work, you will find Sean coaching and playing baseball, or spending time with his little brother.
Ziyi Shi
VP Legal
"Simple is always best, but simple isn't always easy."
As Real's first VP Legal, Ziyi provides legal advice and support on investment transactions, fund formations, portfolio governance and all things legalese. Inspired by her passion for building communities and her desire to enable change, Ziyi was excited to join Real in the spring of 2018. She had previously interacted with the firm during her time at Osler, Hoskin & Harcourt, where she accompanied a number of companies through financings, restructurings and exits. A graduate of Université de Montréal law school, she also pursued a Master's degree at Oxford. When not reviewing contracts, Ziyi enjoys sipping on soy lattes, volunteering with artistic non-profits and brushing up on obscure facts for the next pub quiz.
Lisa Séguin
Director of Marketing & People
Lisa Séguin
Director of Marketing & People
"I love being part of a team whose purpose is to empower today's dreamers to make tomorrow a better world."
Lisa is passionate about the challenges faced by startups and the positive impacts they have on their communities. She is both exhilarated and humbled to collaborate in elevating so many creative and ambitious innovators in the world of venture. In her role as Director of Marketing & People, Lisa manages Real's media and content platforms for founders, investors and communities, their HR and culture initiatives, and a multitude of activities supporting the communities that gravitate around the startups Real serves. Prior to joining the team, Lisa wore multiple hats at several startups (Succès Scolaire, Element AI) and has even been an entrepreneur herself. When she's not reviewing content or planning workshops, she can be found enjoying an epic novel, sipping tea, getting her hands dirty in the garden, or chasing after her three kids.